Thoughtful Gift ideas for Hard Workers
By Vic Hogg
•
Dec 07, 2022
Picking presents can be overwhelming. Here's FLOWN's cornucopia of 2022 gift ideas to help you make someone in your life happy (and yes, that person is allowed to be you).
Gift ideas for planning
Planners
Notebooks
Kit's pick (Flow coach)
For a tech alternative, there's Rocket Book. This reusable notebook uploads your notes and drawings magically to the Cloud.
The best gift you can give yourself is the gift of possibility.
- Paul Newman
Timeblockers
Tom's pick (Flown COO)
If you're feeling old school, though, how about an hourglass? The School of Life have a sleek, 15min-long version.
The greatest gift that you can give to others and to yourself is time.
- Philip Zimbardo
Gift ideas for writing
Pens
Rich's pick
Of course you'll need a pen to write with so here's a couple of starting points, from stylish Desiderata vintage look, modern tech fountain pens to these sweet Paper Source cat-tail click pens.
Pencils
Micah's pick
Best pencil in the world? A Palomino Blackwing 602, apparently. Discontinued in 2011, they were brought back to rival (and beat, in some surveys) the stone-cold classic Ticonderoga. If a Blackwing is good enough for John Steinbeck, it's good enough for us.
Gift ideas for wearing
Hoodies
Slippers
Socks
Vic's pick
We love socks that shout 'confidence' and these are a classy Ghanaian twist on the classic gift. Afrisocks' colourful prints are based on traditional kente patterns.
Accessories
If you're always on Zoom, preventing 'look fatigue' is key and switching it up keeps life interesting. Tennis legend Serena Williams' jewellery line is an inspiring place to start.
Some gifts are big. Others are small. But the ones that come from the heart are the best gifts of all.
- Tinku Razoria
Gift ideas for listening
Audio
'Ear 'ear! Hop over to sustainable and very cool-looking audio kit company House of Marley for all things speaker and headphone-related.
Noise reduction
When you need to pause the playlists and go really deep, Loop Quiet are a stylish hack. The earplugs reduce noise by 27 decibels and come in various colours.
Everyone has a gift for something, even if it is the gift of being a good friend.
- Marian Anderson
Gift ideas for reading
Life Time
Menopausing
Menopausing (HQ, 2022) by TV treasure Davina McCall and health expert Dr Naomi Potter educates us all beyond misinformation, shame and worry on this age-old issue. A warm, witty read whether you're a woman or an ally.
The Climate Book
This important, hopeful almanac The Climate Book (Penguin, 2022) by world-leading activist Greta Thunberg gathers climate crisis wisdom by over 100 eminent experts: geophysicists, meterologists, oceanographers, engineers, economists and more.
The Outdoor Swimmer's handbook
Nate's pick
We have a strong collective of wild swimmers at FLOWN who'll love this 2022 guide by Outdoor Swimming Society founder Kate Rew. Expect facts on physiological response to cold water and night swims to swim technique and everything in between.
Wild Currents
Or if you're after something a little more poetic, take a dip into FLOWN member Jo Gifford's Wild Currents. An emotive read, and inspiring evidence of what can be achieved during a FLOWN deep dive.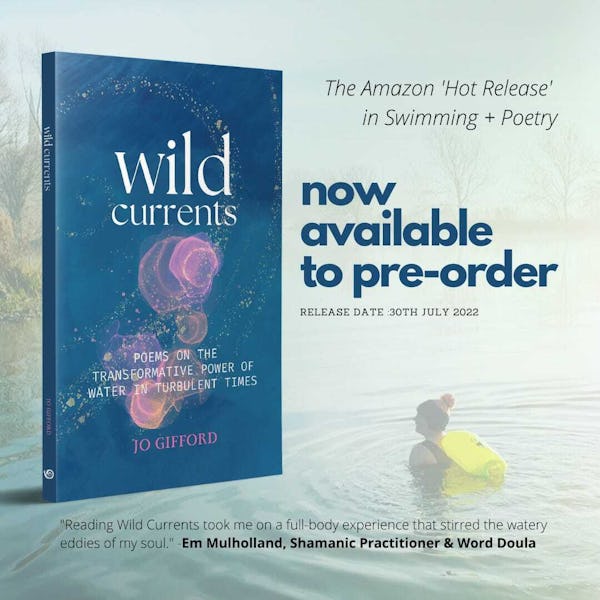 Gift ideas to look at
Pet art
Pets are the cutest so why not commission a portrait of your four-legged friend? Try a 'pet's head on a uniformed human body' style such as this from style originators Paw and Glory, or a Disney-esque cartoon style from Pet Creations Art (offer comes with unlimited redraws).
Light luck
Lift your WFH life with a desk lamp: this maneki-neko 'beckoning cat' brings good fortune to any desk jockey and reminds you to look on the bright side when in deep work.
Gift ideas to feel
Wrist relief
Lorna's pick (Flow coach)
Meet your wrists' new best friend – the Powerball Gyroscope Autostart Pro is rehab for carpal tunnel syndrome, tendonitis and tennis elbow. Faster speeds build hand, wrist and arm strength.
Pick-me-up lamp
A wellbeing tool that'll help beat the Winter blues, aka Seasonal Affective Disorder (SAD). This particular brand: Sola Lamp, is recommended by the NHS.
Fitness fun
Lorna's pick
We all know we need to move regularly but we can easily forget or feel uninspired. Roll these fun Fitness Dice and create a unique exercise sequence every time!
Gift ideas to live by
Shared offline fun
Alicia's pick
What better online experience for your friends and family than a FLOWN membership gift card? They'll thank you from the bottom of their deep-work-loving hearts.
Georgie's pick
Offline, if your love language is spending quality time together, then book a show, a museum or gallery trip or a fun stunt like sky-diving or wine-tasting. Red Letter Days and Experience Days will get you started.
Memories are perhaps the best gifts of all.
- Gloria Gaither
Get the gift of FLOWN❄️
Not a member? Sign up for a 30-day free trial, and the chance to win one of a stash of fantastic prizes when you join the December challenge.