Why you need to make virtual coworking your 2023 superpower
By Zoe Wilson
•
Jan 18, 2023
What is your 2023 resolution? I know, big question, and the kind of goal-oriented thought you may be asked to reflect on to start a virtual coworking session. But with good reason…
If you've landed on this page the chances are you're looking for support with your workflow. Remote workers today (myself included!) have many struggles in common, such as loneliness, a lack of motivation, or a lack of structure. In fact:
Giving yourself space to think about your goals each time you begin work is beneficial for a myriad of reasons. Procrastination is something that all of us grapple with – perhaps you're even reading this article as a form of procrastination, to avoid digging into challenging tasks.
By setting clear goals for yourself before entering a state of deep work, you can avoid procrastinating further and straying from your purpose. This is where virtual coworking comes in.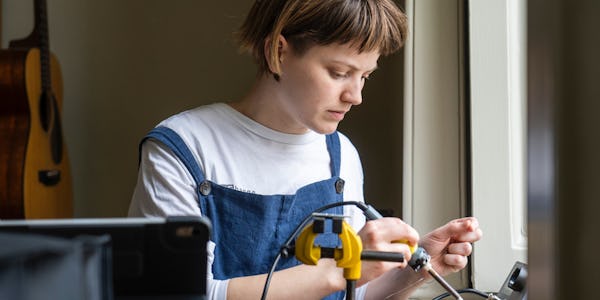 What is virtual coworking?
Virtual coworking is a method of working simultaneously with others in a digital space, such as a Zoom call. You have the freedom of working from wherever you are – an office, your backyard, even your bed – whatever works for you.
So what does a virtual coworking session look like? L'Oréal Blackett, a remote worker and writer for Refinery29, recently tried one of Flown's virtual coworking sessions, called Flocks. She described it as:
"...a strong, unflappable anchor amongst the chaos — reminds you that you have got this and they'll be right here to watch you do it."
Flown runs various session types, but the average Flock will go something like this:
You join a Zoom room to find 30 or so others like you — freelancers, professionals, solopreneurs etc.

"What will you work to achieve during today's session?" you'll be asked by your facilitator, after a quick preamble and warm welcome.

You briefly meet two or three strangers in a breakout room (called mini-flocks) to share your answer.

You work silently on your task alongside your fellow Flockers for the next hour or two, and invariably end up getting far more done than you'd thought possible.
💡 For more on experiences with FLOWN, read about what our members say.
Flown run Flock sessions throughout the workday, which means you can book in at almost any time (within reason) to find the focus you need to get stuff done. There are three types:
Take-Off: A 20-minute morning ritual to journal and share your intentions for the day
Deep Dive: A 2-hour silent deep work session to work on anything that requires focus
Power Hour: A sprint of work – focus for an hour to get key tasks over the line
How virtual coworking helps you get more done
It seems too good to be true, right? Which is why 88% of members who try Flocks come back for more. Virtual coworking helps make people more productive by implementing tools backed by science, including body doubling.
How body doubling works
Body doubling might sound like something off of a movie set but it's a term that was coined by those studying ADHD and ways to improve its symptoms.
Body doubling was first discovered while observing 'parallel play' between kids. Parallel play is when two children sit side-by-side both working on separate tasks. Unprompted and without intervention, the two children will play for hours comforted by the presence of another person in the room. Some minds work best when around others, even without communication between the two.
Body doubling is one of several key practices used by Flown's Flocks, each proven to help stave of procrastination and trigger focus. The intention setting, accountability, and measured stints of focus are all proven to hugely benefit your work:
A 2010 study by the American Association for Talent Development found that the probability of completing a goal increased to 65% when the intention to achieve it was shared with someone. Importantly, when this was also done as part of a specific accountability appointment, the likelihood of success increased further to 95%
Community and accountability affect productivity. Having a physical anchor often brings people mental clarity. Accountability is a huge factor in why virtual coworking spaces are effective.
How virtual coworking with FLOWN works
FLOWN offers a variety of resources focused on different areas of need. Flocks have several practices that aid focus, but there are also other products beyond Flocks – such as Portholes, Awe Walks, and breath work sessions (both live and on-demand).
Portholes: A cinematic video accompaniment to help you focus

Awe Walks: Meditative exercises and sensory challenges to get you away from your desk for 10 minutes, so you can return refreshed and raring to go

Airflow: Live breathwork sessions designed to renew your focus and boost wellbeing
Based on key aspects of behavioural science and neuroscience, Flown's assortment of tools and resources offer an incredibly effective way to help you arrive at focused states of mind with ease, so that you can do better work, and more of it.
Try a Flock for free to discover the benefits of virtual coworking
Try a Flock for free today, and see how much you can tick off your to-do list!