SoulCycle x FLOWN: how to get focused and fit in 3 simple steps
By Douglas Weissman
•
Jul 14, 2023
Research has long established the connection between physical fitness and mental focus. According to the National Institute of Health, engaging in regular exercise increases blood flow to your brain, promotes the growth of new neurons and enhances your cognitive function.
Like Reese Witherspoon says in Legally Blond, "Endorphins make you happy. Happy people just don't kill their husbands, they just don't." As we know, physical activity helps release endorphins, and endorphins are known to boost your mood and reduce your stress.
What's interesting is that exercise also increases production of neurotransmitters like serotonin and dopamine, which elevate mood, foster a sense of well-being, and help to regulate attention and focus.
They help you think better and concentrate.
It's partly why folks like renowned exercise physiologist Peter Attia M.D., founder of Early Medical, swear by the mental benefits of physical activity.
After learning about his own elevated risk of an Alzheimer's type neurodegenerative disease, he committed to focused physical exercise and soon discovered the staggering mental benefits.
How physical activity helps you focus
Just 20 minutes of exercise increases blood flow to your brain, promoting healthy cell growth that improves concentration. The benefits of a consistent exercise routine transfers across your life with increased focus, energy, and overall mental health.
So, let's take a look at how a little body doubling and accountability can take the struggle out of getting fit and focused in your work.
A three-step guide to fitness and focus with FLOWN x SoulCycle
1. Energize with Body Doubling
Whether struggling to hit a project deadline or feeling too low energy to hit the gym, grabbing a friend for some real-time support can make a big difference. This is what body doubling is ultimately about — human connection and accountability.
Working in the presence of another person acts as an anchor in space, time, and focus.
Choose an accountability buddy. This could be a friend, a mentor, or perhaps even a coach. Finding someone you know is good at doing the thing you're seeking to be motivated toward — whether exercise or focused work — will help you to tap into your own focus when you work alongside them.
If going at a project at work, decide on a meaty task you know you need to make headway on, then schedule a time and place to work silently alongside your accountability buddy.
Begin by sharing your aims and the task you intend to spend your time on.
Set a timer, and work on your task for the agreed interval, ready to check in with each other when you get to the end of your stint.
Of course, a great way to gain all of the benefits of the above and then some is through SoulCycle and FLOWN.
With both platforms you're able to tap into the powerful effects of body doubling. You show up for your own reasons, but work together with a greater purpose to leave energized and empowered.
Find SoulCycle energy together with the accountability magic of FLOWN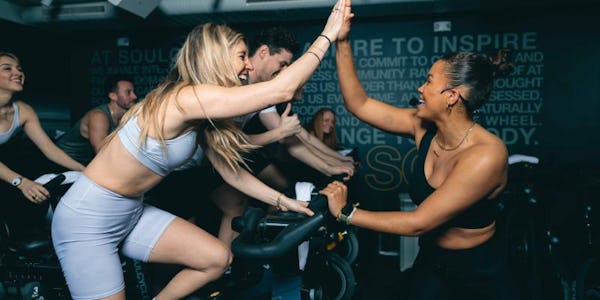 2. Calm the mind with monotasking
Struggling to make a dent in your to-do list while juggling multiple projects? Monotasking is the answer. It's about dedicating your full attention to one task at a time. It immerses you deeply in the action to achieve a state of flow. To take advantage of the benefits, you need to get specific.
Choose what you will focus on.
Eliminate distractions like your phone notifications, emails, or a whining dog.
Fully engage in the single task at hand by setting up specific goals; from a number of reps at the gym to a specific distance traveled or task performed.
Finally, find your entry point to avoid procrastination; what works best for you could include using the Pomodoro Technique, actively brainstorming, moving your body, or clustering small tasks together.
Mono-tasking prioritizes your mental energy, resulting in increased clarity and a greater sense of accomplishment, especially when finding the sweet spot between exercise, focus, and productivity.
3. Maintain consistency with community support
Sometimes life can feel out of your control. Your plans turn sour, you had blocked out every minute of your day only to have your car break down, your Wi-Fi disconnects, or your keys disappear. It's hard to show up in the moments life feels unmanageable. It's even more difficult when showing up already feels inconsistent.
Find an activity that motivates you. Gain support with a body double. Start small with your goals and gradually increase them. Wherever you find your community, creating a routine that integrates physical and mental fitness can give you a holistic approach to your wellbeing.
By approaching work and exercise with consistency and intention, you can reap the benefits of both to boost both your wellbeing and output at work — the ideal way to get more done and feel good doing it.
SoulCycle x FLOWN's respective approaches are a great aid with this. Using each of them can help to make being consistent easy.
With social cues and structures designed to spur motivation and help you to reach actionable benchmarks, SoulCycle and FLOWN offer an inspiring resource with which to reach your work and health goals.
All you have to do is show up and do your best with the active support of the community around you.
Applying focus to your fitness
In the pursuit of a balanced lifestyle, applying concentration to your fitness endeavors then helps your concentration elsewhere. Channeling your mental energy and adopting a focused mindset maximizes the effectiveness of your exercise, and vice versa, to unlock your true potential.
Get focused
The journey towards becoming focused and fit goes beyond physical exercise, it encompasses the holistic nature of well-being. By integrating body doubling, community support, and mono-tasking, you can achieve a state of personal empowerment. Unlock your full potential and live with purpose, supporting body and mind by embracing the approach of FLOWN and SoulCycle.