Feng shui your home office for peak productivity in 5 easy steps
By Eleanor Hope-Jones
•
May 25, 2023
A workspace that inspires creativity, focus and peak productivity is pretty darn essential when you're working remotely. Clutter is more than just unpleasant, it's also proven to distract, cause procrastination and create a cluttered mind.
Enter Feng Shui – the answer to creating a home office design that promotes positive energy and helps you find your flow state. Transform your home office into a productivity powerhouse by learning about Feng Shui office layout principles, from commanding positions to color meanings, and following our five steps to a Feng Shui home office.
The key principles of Feng Shui
Feng Shui is an ancient Chinese philosophy that emphasizes the impact of our environment on one's health, happiness, and success. At the heart of this practice is the concept of Qi (pronounced "chee"), which is the energy or life force that flows through all things. Feng Shui aims to create a harmonious and balanced environment that promotes positive Qi flow through the arrangement and organization of elements such as furniture, colors, and decor.
When Qi flows smoothly, it is believed to enhance well-being, while blockages or stagnation can create obstacles in life like procrastination. Intrigued? Here are some key principles of Feng Shui:
Five elements
The five elements of Feng Shui (wood, fire, earth, metal, and water) are used to represent different energies and qualities. Wood represents growth and vitality, fire passion and creativity, earth stability and nourishment, metal clarity and precision, whilst water represents ease and flow. By incorporating these elements into your decor, you can create a balanced and harmonious environment that supports your well-being.
Natural light
Natural light is an important aspect of Feng Shui because it represents vitality and positive energy. Maximizing natural light and adding artificial lighting to create a bright and uplifting environment is believed to boost your mood, energy levels, and overall well-being. This can help you feel more alert and focused while you work.
Plants
Incorporating plants and greenery into your workspace is another important aspect of Feng Shui. Plants are believed to promote vitality and growth, and they also help to purify the air and reduce stress levels. Having plants around you can create a sense of calm and connection with nature, which can help you feel more centered and focused.
"When we make our workspace sacred and enter it daily with respect and high intention, then we elevate our actions."
- Steven Pressfield
Which way should a desk face in a home office?
The placement and direction of your desk is considered one of the most important factors in creating a productive and harmonious home office in Feng Shui. The ideal desk direction is known as the command position, where it faces the entrance to the room. This placement creates a sense of control and stability, allowing you to focus on deep work without feeling vulnerable which can boost your confidence and concentration.
When your desk is in the command position, you have a clear view of the room and can see who is coming and going. On the other hand, if your desk faces a wall or a window, you may feel restricted or distracted, which can negatively affect your productivity and overall well-being.
In addition to the command position, it's also important to consider the location of other objects in your home office. For example, you should avoid placing your desk directly in line with the door, as this can create a sense of pressure and discomfort. Instead, try to position your desk diagonally across from the door to allow for a more comfortable and inviting space.
FLOWN runs online virtual coworking sessions called 'Flocks', designed to free you from distraction and take the willpower out of productivity.
Try a Flock for free today, and see how much you can tick off your to-do list!
What is the best feng shui color for a home office?
Colors have been an essential element in Feng Shui for thousands of years. Each color is associated with a specific energy, and by incorporating these colors into your workspace, you can create the harmonious home office of your dreams!
Blue: Promotes calmness and focus, associated with the water element, which can help energy flow and create a sense of tranquility. A blue rug, artwork, or chair can help you stay focused and productive throughout the day.

Green: Associated with growth, abundance, vitality, and the wood element, which represents growth and new beginnings. Plants or green accents can create a sense of renewal, freshness, and new opportunities. A small plant on your desk or a green lamp can help you stay connected to nature and promote a sense of balance and harmony.

Yellow: Linked to creativity, inspiration, and intellectual stimulation, and the earth element, which represents stability and grounding. A yellow accent wall, artwork, or lamp can add a burst of energy to your workspace and help you stay motivated.

Red: Believed to bring good luck and success, associated with the fire element, which represents passion, energy, and enthusiasm. A red chair, artwork, or lamp can help you stay inspired and focused on your goals.

Purple: Represents wisdom, spirituality, and creativity, and is often associated with royalty and luxury. A great color for writers, artists, and other creative professionals. Can be incorporated through accent walls, curtains, or artwork.

Orange: Vibrant and energetic, associated with enthusiasm, creativity, and success. Inspires confidence and courage, making it a great color for entrepreneurs and business owners. Can also promote communication and social interaction, making it a good choice for home offices that double as meeting spaces.
Discover how music can trigger focused states of mind for your work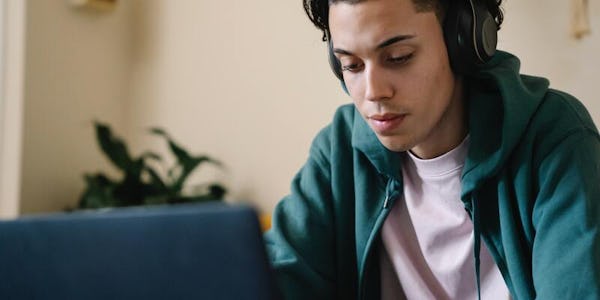 5 tips for how to organize home office Feng Shui
If you're looking to enhance your productivity and well-being in your work-from-home environment then look no further than our top 5 Feng Shui tips:
1. Declutter and keep your space organized
According to Feng Shui principles, clutter and disorganization can create stagnant energy, causing you to feel stressed and overwhelmed. By keeping your workspace organized, you can increase your mental clarity and improve your workflow. It's recommended to only keep essential items on your desk and use storage solutions to keep paperwork and supplies out of sight. Everything should have a designated place so that you can easily find what you need without being distracted!
2. Use a comfortable chair and desk that promotes good posture
Feng Shui emphasizes the importance of comfort and ergonomics in your workspace. Using a comfortable chair and desk that promote good posture can help you avoid discomfort and ensure you feel relaxed even if your job gets stressful. When you're comfortable, you're more likely to stay focused and productive. In Feng Shui, it's recommended to choose a chair with a high back and adjustable arms, and a desk that's at the right height for your body.
Generally, your desk should be at elbow height or slightly lower when sitting upright in a chair, with the arms comfortably resting on the desk surface. This helps to avoid strain on the neck, shoulders, and back and promotes good posture.
3. Add personal touches such as artwork or decor that inspire you
Feng Shui encourages you to create a workspace that's inspiring and uplifting. Adding personal touches such as artwork, decor, or items that have personal significance can help create a positive and motivational work environment. By surrounding yourself with items that inspire you, you can increase your creativity, confidence, and sense of wellbeing.
4. Incorporate natural materials like wood, stone, and plants into your decor
In Feng Shui, natural materials are believed to have a positive effect on energy flow and can help create a calming and balanced environment. Incorporating natural materials such as wood, stone, and plants into your decor can help create a sense of grounding and connection with nature. It's recommended to have natural lighting and choose plants with round leaves, as they're believed to promote positive energy flow.
5. Use a water feature such as a fountain or fish tank to promote relaxation and tranquility
Water is an essential element in Feng Shui, and using a water feature such as a fountain or fish tank can promote relaxation and tranquility. Moving water is believed to help circulate positive energy flow, and the sound of water can be soothing and calming. It's important to keep the water feature clean and well-maintained to ensure that it doesn't become a source of stagnant energy.
Feng Shui can help ease some of the challenges of remote work
If you're a remote worker you face a unique set of challenges that can wreak havoc on our focus, productivity, and general mojo. The perils of burnout, the allure of endless distractions, and the ever-present time management monster can be a formidable trio.
By embracing the ancient art of Feng Shui, you can create a home office that soothes the soul and supercharges your workday. Optimize your own office space with Feng Shui principles to promote good energy flow, enhance your well-being, and slay those remote work demons like a pro.
Meet your friendly flock to overcome even more remote work challenges!
Our members are finding focus more easily than they ever thought possible, thanks to the FLOWN toolkit and community.