What can I expect from a FLOWN x SoulCycle Flock?
By Micah Yongo
•
Jun 27, 2023
The FLOWN universe is expanding!
For those familiar with FLOWN's Flocks—our invigorating focus sessions—we're amplifying the experience by integrating the energy and positivity of SoulCycle.
So, join us in welcoming Grace Whitlock and Dylan Hurwich, two outstanding SoulCycle instructors, to the FLOWN family. They've been delving into the science of focus along with the special rhythm of Flocks, and are all set to guide your FLOWN sessions with their unique mix of flair and dynamism.
Flocks are online focus sessions designed to free you from distraction and take the willpower out of productivity.
Try a Flock for free today, and see how much you can tick off your to-do list!
What to expect from the SoulCycle x FLOWN Experience
First of all, don't worry. No bike required 😉.
Grace and Dylan will be leading a weekly roster of special SoulCycle-infused Flocks that FLOWN members will be able to find and book onto via their launchpad.
Expect the same focus-triggering structure you've come to know and love from traditional Flocks, along with the vibrant energy and charisma they'll be bringing to inject an extra dose of drive into your work.
Adding an extra dash of novelty to familiar experiences offers a powerful spark to the brain's ability to focus and think creatively.
By infusing the famed Flock structure with the motivational, vibrant essence unique to SoulCycle, we're offering FLOWN members a new additional way to be propelled through their workday.
How will SoulCycle x FLOWN sessions be different
"If it ain't broke, don't fix it."
- Bert Lance
These special Flocks will keep the same format as our usual sessions.
You join a Zoom room to find 30 or so others like you — freelancers, solopreneurs, professionals — readying for an hour or more of deep work.

Your facilitator will ask what you'll work to achieve during the session.

After meeting two or three others in a breakout room to share your answer, you'll go on to work on your task in the virtual presence of your new companions.
The only difference is these sessions will be charged with the dynamic personality, enthusiasm and charisma of SoulCycle instructors; and will feature energizing and expertly guided movement breaks on our 2-hour Deep Dive sessions to keep your motivation thrumming and your mind fresh as you power through your tasks.
When will SoulCycle x FLOWN sessions happen
Grace and Dylan will be running Power Hours or Deep Dives at various points of the Flock schedule 4-5 times a week.
To book into one of these special Flocks, members can simply navigate to the session of their choice via the FLOWN calendar, accessible from their launchpad.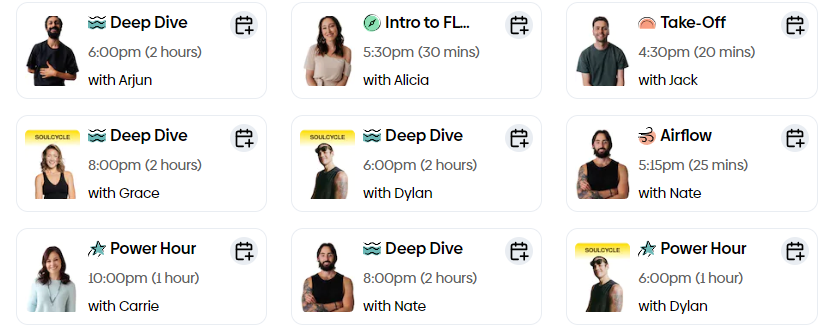 Simply select the session you want, and you'll be reminded by email when it's time to join.
A Flock Like No Other
These new SoulCycle-imbued Flocks will fuel you with the drive to focus, helping you accomplish what truly matters. So, get ready for a transformative experience where focus meets fitness inspiration. This is a unique opportunity to enhance your productivity, streamline your workday, and inject a little SoulCycle spirit into your FLOWN journey.